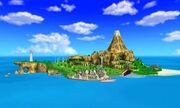 Wuhu Island is an island that has appeared in many Nintendo games, first appearing in Wii Fit as Wii Fit Island. It is a large island with a volcano, a town, ancient ruins, and many more locations. Wuhu Island's location is unknown. The whole island is populated by Miis, and many animals such as whales, hawks, and dogs, too. Tourists seem to be the main industry of Wuhu Island. The island is powered by wind energy, and only electric cars are allowed on the island.
These are the games Wuhu Island has appeared in so far:
Wii Fit: Wuhu Island's first appearance. It was only seen in the jogging game. Super Mario Bros. sprites appeared as easter eggs that could be found while jogging.
Wii Sports Resort: The whole game took place on Wuhu Island, and the whole island was revealed with Island Flyover.
Pilotwings Resort: Like Wii Sports Resort, Wuhu Island was the main location of Pilotwings Resort. A few new locations were added to the island in this game.
Mario Kart 7: Wuhu Island has been revealed to be one of the tracks.
Landmarks
Edit
Main article: List of landmarks on Wuhu Island
Military Island Transformation
Edit
To promote Wii Sports Resort's release, Nintendo of America transformed Military Island in Times Square in New York City into Wuhu Island. 50 tons of sand was hauled in, a band played tropical songs and music, a pool was presented, and island-based non-alchoholic drinks were served to visitors. Also, special events which releated to the game were presented.
Wuhu Island's name may be based on the interjection "woo hoo".
Ad blocker interference detected!
Wikia is a free-to-use site that makes money from advertising. We have a modified experience for viewers using ad blockers

Wikia is not accessible if you've made further modifications. Remove the custom ad blocker rule(s) and the page will load as expected.