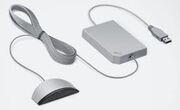 Wii Speak is a Wii accessory that allows the user to chat with other Wii Speak users from nearby, or all over the world. The users do not need a headset or microphone, but can simply talk while standing in front of their television. Wii Speak was revealed at E3 2008 with Animal Crossing: City Folk, the first game Wii Speak was usable on.
Games Wii Speak can be used on
Edit
Ad blocker interference detected!
Wikia is a free-to-use site that makes money from advertising. We have a modified experience for viewers using ad blockers

Wikia is not accessible if you've made further modifications. Remove the custom ad blocker rule(s) and the page will load as expected.