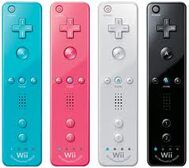 The Wii Remote Plus, also known as the Wiimote Plus, is an upgraded version of the Wii Remote controller. The controller is a hybrid of the Wii Remote and the Wii MotionPlus. The Wii Remote Plus eliminates the need to plug in the Wii MotionPlus peripheral. Though the MotionPlus is built-in to the controller, the controller still maintains the same size and height of the original Wii Remote, but has the words "Wii MotionPlus Inside" printed at the bottom. The current colors are white, black, pink, light blue, and red. A gold version of it will be made available through a Skyward Sword bundle and as a standalone.
During September 2010, many rumors circulating claimed of a new Wii controller with the Wii Remote and the Wii MotionPlus merged together, dubbed the "Wii Remote Plus", and was to be bundled with the then-upcoming game FlingSmash. Nintendo initially declined to comment, but later announced the device on September 29 2010, confirming it to be a Wii Remote with MotionPlus built in, allowing players to use peripherals like the Wii Zapper and Wii Wheel without having to remove Wii MotionPlus from the Wii Remote. Nintendo later announced that the remote would be available in white, black, blue and pink. It was released in Australia on October 28 2010, in Europe on November 5 2010, in North America on November 7 2010 and in Japan on November 11 2010.
The Wii Remote Plus has been bundled with many different games. The red Wii Remote Plus is only sold standalone in Japan while in other regions, the red Wii bundle must be bought in order to obtain this color, although in European countries it comes with the European version of Wii Play: Motion.
Third Party versions
Edit
Nyko revealed the Nyko Wand+ at CES 2009, a Wii Remote alternative with the Motion Plus functionality built into the device, saving players from having to change plugins.
In Europe, Snakebyte launched its Premium Remote XL +, with built-in Wii MotionPlus, and its Minimote, a smaller version of the Premium Remote, for children.
Memorex launched a series of controllers in 2011 under the "Game Controller Plus" moniker. Available in black, pink and blue, the Game Controller Plus line has Wii Motion Plus functionality built in.
Ad blocker interference detected!
Wikia is a free-to-use site that makes money from advertising. We have a modified experience for viewers using ad blockers

Wikia is not accessible if you've made further modifications. Remove the custom ad blocker rule(s) and the page will load as expected.