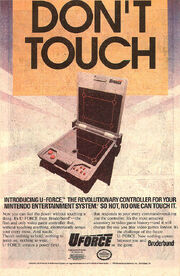 The U-Force is an accesory for the NES that was created by Broderbund. It has a controller, buttons not on the controller, and infrared panels to detect hand movements and turn them into signals. There is an accesory for it that came with the game Mike Tyson's Punch-Out!!. It was called one of the worst game controllers by IGN.
Advertisement
Edit
The advertisement shown on the right reads:
"Don't Touch
Introducing U-Force, the revolutionary controller for your Nintendo Entertainment System. So hot, no one can touch it. Now you can feel the power without touching a thing. It's U-FORCE from Broderbund - the first and only video game controller that, without touching anything, electronically senses your every move, and reacts. There's nothing to hold, nothing to jump on, nothing to wear, U-Force creates a power field that responds to your every command-making you the controller. It's the most amazing accessory in video game history - and it will change the way you play video games forever. It's the challenge of the future. U-Force. Now nothing comes between you and the game."
Ad blocker interference detected!
Wikia is a free-to-use site that makes money from advertising. We have a modified experience for viewers using ad blockers

Wikia is not accessible if you've made further modifications. Remove the custom ad blocker rule(s) and the page will load as expected.