Telly Vision is a character in Chibi-Robo!: Plug Into Adventure!. He is a small, televison-like floating robot with one beady eye and one dot eye and is Chibi-Robo's partner and assistant. Telly Vision gives Chibi-Robo help and advice throughout the game, and also worries about him a lot. He can also speak, unlike Chibi-Robo.
Appearances
Edit
Chibi-Robo!: Plug Into Adventure!Edit
In Chibi-Robo!: Plug Into Adventure!, Telly Vision helps out Chibi-Robo and sometimes gives him hints and tips. He is great friends with Chibi-Robo, and this can be proved because of how he gets upset and bursts into tears when he sees that Chibi-Robo has collasped.
Like Chibi-Robo, Telly Vision appeared as a trophy and a sticker in Super Smash Bros. Brawl.
Super Smash Bros. Brawl Trophy Description
Edit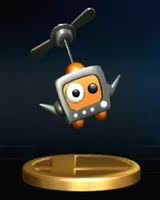 This is the Telly Vision trophy description in Super Smash Bros. Brawl:
"A manager robot that comes with Chibi-Robo when you buy him. Telly can hover through the air using the propeller attached to his head. Unlike Chibi-Robo, Telly can speak the human language. In addition, Telly acts as a motivator of sorts, encouraging Chibi-Robo as he goes about working and gaining Happy Points."
Telly Vision's name is a pun on the word "television". This is because he sort of looks like a small television.
Ad blocker interference detected!
Wikia is a free-to-use site that makes money from advertising. We have a modified experience for viewers using ad blockers

Wikia is not accessible if you've made further modifications. Remove the custom ad blocker rule(s) and the page will load as expected.