Naughty Dog is a video game developer located in Santa Monica, California in the United States. It was founded in 1986, and bought by Sony Computer Entertainment in 2001. The company is best known for developing the Crash Bandicoot games made in 1996 through 1999, developing the Jak and Daxter series and for developing the 3 games in the Uncharted series.
As high school students, Jason Rubin and Andy Gavin have experimented with Lisp and C++. They teamed up to develop video games and founded "Jam Software" in 1986. They both chose to create software for the Apple II and decided to create a skiing title. During production, Gavin accidentally copied bootleg games over the copy of the skiing game they had. Rubin then created a new skiing game called Ski Crazed (Originally titled Ski Stud). The game was later bought from Jam Software by Baudville for $250. Gavin and Rubin also created Dream Zone for the Apple IIGS which was released in 1988.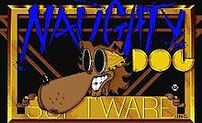 In 1989, Rubin and Gavin released another game called Keef the Thief, which was published by Electronic Arts for the Apple IIGS, Amiga and personal computer. To make a fresh start and to dissolve their relationship with Baudville, Rubin and Gavin renamed Jam Software as Naughty Dog. In the early 90's, Naughty Dog created Rings of Power, which was published by Electronic Arts for the Mega Drive in 1991. By that time, Rubin and Gavin were in college and Naughty Dog was bankrupt.
Rubin and Gavin (along with friends) then produced the 3DO Interactive Multiplayer title Way of the Warrior and presented it to Mark Cerny of Universal Interactive Studios (now the defunct Vivendi Games). Cerny was pleased with Way of the Warrior and signed Naughty Dog on to Universal Interactive Studios for three additional games. Rubin and Gavin devised a plan to create a three-dimensional action-platform game. Because the player would be forced to constantly look at the character's rear, the game was jokingly codenamed "Sonic's Ass Game".
Production of the game began in 1994, during which Naughty Dog expanded its number of employees and invented a development tool called "Goal Oriented Object LISP", to create the characters and gameplay. Cartoonists Charles Zembillas and Joe Pearson were recruited to create the characters of the game, which resulted in the titular character Crash Bandicoot. After 14 months of development, the game was shown to Sony Computer Entertainment, who then signed on to publish the game. Crash Bandicoot was shown to the public for the first time at E3 and went on to become one of the highest-selling titles for the PlayStation console, selling over 6.8 million copies to date.
Ad blocker interference detected!
Wikia is a free-to-use site that makes money from advertising. We have a modified experience for viewers using ad blockers

Wikia is not accessible if you've made further modifications. Remove the custom ad blocker rule(s) and the page will load as expected.