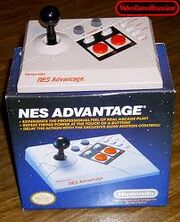 The NES Advantage is a controller for the NES that lets the player use a joystick instead of a D-pad. Like the NES Max, the NES Advantage added a few more buttons. The buttons included were a slow button, and two turbo buttons. A similar third-party controller for the Wii called "The Shaft" is also available.
In Ghostbusters II, the Ghostbusters control the Statue of Liberty with an NES Advantage.
Ad blocker interference detected!
Wikia is a free-to-use site that makes money from advertising. We have a modified experience for viewers using ad blockers

Wikia is not accessible if you've made further modifications. Remove the custom ad blocker rule(s) and the page will load as expected.