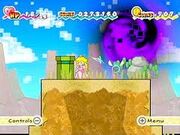 Downtown of Crag is Chapter 5-1 in Super Paper Mario. The town area of the level is where the Cragnons live. The town is built by the nearby mountain. Although it has a prehistoric look, the town has electric devices such as TV (known as Cragvision), and other modern technology. But, they are all made from rocks. There are two shops in the town, an Itty Bits store (the only place to get Mild Cocoa Beans) and a Howzit's Shop (the only place to get Primordial Fruit). Also, in the town are a few homes, Flint Cragley's home, the elder's home, and a bridge crossing over a creek.
Ad blocker interference detected!
Wikia is a free-to-use site that makes money from advertising. We have a modified experience for viewers using ad blockers

Wikia is not accessible if you've made further modifications. Remove the custom ad blocker rule(s) and the page will load as expected.