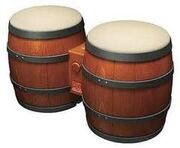 The DK Bongos are a controller for the GameCube, for use with the games Donkey Konga, Donkey Konga 2, Donkey Kong Jungle Beat, and Donkey Konga 3. The DK Bongos look like drums made of barrels. The bongos also have a microphone in the middle to detect sound. The bongos have been used with all of the Donkey Kong GameCube games, and they come with all of those games. But, they are also sold seperately. In the New Play Control! remake of Donky Kong Jungle Beat however, the DK Bongos were not compatible with the game.
Ad blocker interference detected!
Wikia is a free-to-use site that makes money from advertising. We have a modified experience for viewers using ad blockers

Wikia is not accessible if you've made further modifications. Remove the custom ad blocker rule(s) and the page will load as expected.